BDPA is the premier organization focused on nurturing and developing diverse working professionals and future IT leaders in the Science, Technology, Engineering, and Math (STEM) and all digital technology fields.
BDPA Motto: "Advancing Careers From The Classroom To The Boardroom."
About BDPA Southern MN
Our Mission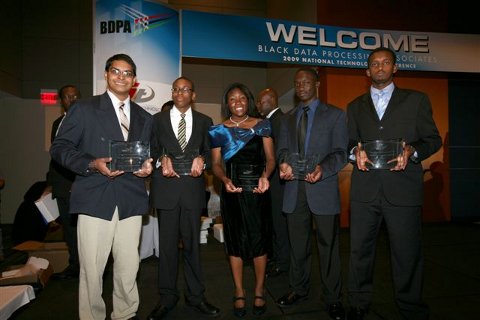 BDPA is an international organization with a diverse membership of professionals and students at all levels in the fields of information technology, computer science and related S.T.E.M fields. Members are actively engaged in serving the community through outreach and charting the future of the IT industry.
BDPA was founded in 1975 by Earl Pace and the late David Wimberly to address the underrepresentation of minorities in the field of Information Technology. The organization today has chapters in every major city throughout the United States, thousands of professional and student members and an online community of more than 90,000 people.  BDPA, Southern MN is a chapter of National BDPA.
The Southern MN chapter was chartered in May of 1999 in Rochester, MN with 10 members. The first youth computer team competed in 2000 and placed ninth.  Since 2003, the Southern MN HSCC team has never placed lower than fourth.  The Rochester team set a national record with the most consecutive first place wins in the history of the competition.  The students receive academic credit for their work with the local chapter program.  The chapter has also won National Developing Chapter of the Year, the Chapter Management Award, the Chapter Membership Award and 1st and 2nd Runner-up for National Chapter of the Year.
The Southern MN chapter was chartered in May of 1999 in Rochester, MN with 10 founding members.  The idea of a BDPA Chapter in Southern Minnesota started with the arrival of Betty Hutchins into the Rochester community in January 1998.  With her arrival for work with Mayo Clinic IT and experience starting a BDPA Chapter in Chattanooga, Tennessee, she brought the idea of exploring the interest of IT careers for high school students of color.  Her work with local community leaders, led her to the decision to pursue the creation of the chapter and working with Mildred Bates-Jackson on the finances to create a 501c3 organization in the state of Minnesota.  BDPA students, not only learn marketable computer skills but compete for scholarships nationally and locally to support their continued technical education and careers.  Betty was assured by local community advocate, Jackie Johnson, that there was indeed a need in the city of Rochester for this youth programming.  Other leaders in Rochester in IT and beyond, supported the Southern MN Chapter by joining the organization, creating an organization plan and signing the founding charter in 1999.